Paying monthly bills is usually not something associated with fun. It's a necessity, and often statements arrive as a factual, black-and-white piece of paper with a lot of numbers.
The USPS® 2019 Personalized Color Transpromo promotion could be a way for you to add a little fun to your statements with color, and earn postage discounts. Mailers who place a personalized and/or color advertisement on the billing statement can be rewarded with postage discounts.
Promotion Registration: May 15, 2019 – December 31, 2019
Promotion Dates: July 1, 2019 – December 31, 2019
Discount: 2% of eligible postage for First-Class Mail® presort and automation letters for bills and statements.
Promotional Details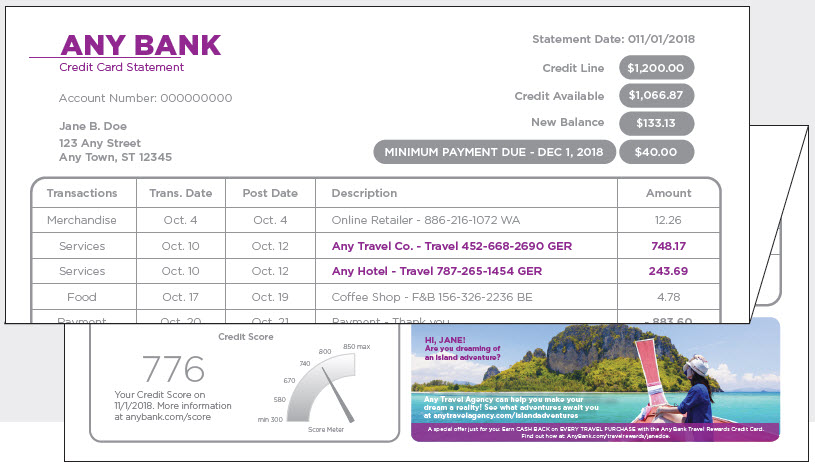 To qualify for this promotion, your mailpiece must be part of an IMb (Intelligent Mail barcode) Full-Service mailing.
New Participants can qualify with just color messaging on the statement.
Prior Participants are required to incorporate both dynamically printed color and personalized messaging on the statement.
Related Tension Product
While use of personalized color on the outer envelope does not qualify for this promotion, statement mail is usually seen in our top-selling product: the #10 envelope. Tension makes both standard and custom-sized number 10 envelopes for all types of mailers, including statement mailers. Check out this highly popular blog for more information.
2019 USPS Promotions and Incentives, Simplified
Tension has prepared easy-to-read overviews of the USPS promotions, available to you.
Two-Page Overview of the 2019 USPS Promotions
Do you need a quick overview of the promotions and important dates for each? Click here to download.
USPS Promotions White Paper
Or, are you looking for an in-depth view of promotional details and requirements? Our white paper takes a deep dive into each promotion, highlighting approved mailpieces, available discounts and more. Click here to download.
Be sure to check full program requirements here. The USPS gives all final approvals, and including one of the design elements mentioned above, does not automatically qualify you for the promotions.
Make a Colorful Statement
Make a colorful impression on your next billing statement and reap the rewards from the USPS. A Tension Sales expert can help you explore how to incorporate the USPS 2019 Personalized Color Transpromo promotion in your next mailing. Contact us to start the conversation today.
*All approvals must come from the USPS®. The information presented here is for illustrative purposes only.